WHAT IS THE KULLBERG CONSULTING GROUP?
KCG is a unique, fully integrated, marketing and marketing communications resource for client companies. We are not like any traditional "agency" or agency group. Our members have developed, managed, pushed and prodded their clients' products and services locally, nationally and globally. And they certainly aren't focused on getting "industry awards." They already have them. Lots of them.

A Powerful Marketing Tool
KCG now consists of sixty entrepreneurially-driven professionals, who aren't afraid of getting their hands dirty to do the job properly. Since our founding, we've broken down the traditional agency barriers so that public relations executives could work with advertising creative directors and sales promotion professionals could work with packaging specialists. It has been not only a pleasure for the participants but a very major benefit to our clients. Integrated marketing communications really can be a powerful marketing tool.

Remarkable Experience
KCG professionals are legendary in their own particular disciplines. They're equally comfortable in a Fortune 500 boardroom and in the small office of a start up company. They have managed creative, media and research departments at "Top 20" advertising agencies, with local, national, and often international responsibility.

Some have been on the other side of the desk, directing marketing departments of Fortune 500 companies. Others have handled brand or corporate identity, or packaging, or retail environment, or public relations, or sales promotion, or sports marketing, or direct response functions at agencies or client companies or both.

Product categories where the collective experience of KCG members includes at least 10 brands are:


An obvious benefit of this experience is that we don't require a lot of "start-up" time; making us more efficient and saving you money.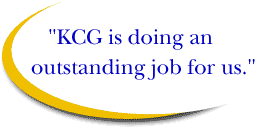 What is KCG best at?
Because the concept of KCG is so unique, we have been asked, "What are you best at?" Candor and cost efficiency come to mind. As does providing senior level talent on a day-to-day basis. Or integrating this talent without competing disciplines. But our answer to this question is:

We provide an unbiased point-of-view, with a very high success rate, while also delivering outstanding execution thereby improving ROI.

Finding experienced executives is easy. We've found talented people who respect one another's disciplines and actually care about the end result. That was the hard part. However, that's what we've done at KCG.

How rewarding it is to not have to wonder if the job is going to be done right. The first time.

"When should you hire the Kullberg Consulting Group?"
"How does the Kullberg Consulting Group Charge?"